Contact
Guest house near the castle Mělník ****
Svatováclavská 24/6
276 01 Mělník
Czech Republic
phone: +420 602 770 929
e-mail: uzamku-melnik@seznam.cz
IČO: 61069116
Write to us!
How you can find us?
Coordinates:
50.3512883°N, 14.4740125°E
50°21.07730'N, 14°28.44075'E
50°21'4.638"N, 14°28'26.445"E
By car:
If you go by car, go to the main square - Náměstí Míru, where after grey building Commercial bank - Komerční banka turn right, and continue in pedestrian zone (as our guests you can drive here) till the green house on right side, marked by the poster Pension near the castle Melnik ****.
If you go from Prague by the "old way" (not on highway) and you have navigation, please don't put in the navigation Svatovaclavska street, because the navigation will turn you to the near place Palackého, but you can not go by car to apartments as there are barriers to the entry into the pedestrian zone. You can find us as follows: after the arrival to Melnik on the main street Pražská, go till the bank Česká spořitelna, than go right to Fibichova street. At the end of the street turn left to Nová street, and at the end of this street, around the building of post-office right to the street Tyršova. You will arrive to the big building KON; 50 m after this building left to the street Legionářů, by which you will already arrive to the main square Náměstí Míru and to apartments.
Parking is for free on the near square guarded by camera (parking card at your disposal). You can also reserve parking place inside the closed house for 100 CZK/4 EUR/day (capacity: 1 car).

By train, bus:
If you arrive to the train or bus station, you will arrive to us by walking in - 10 - 15 min, the most easiest way by the street Kpt. Jaroše. You can also call us, and if possible, we will go for you on the bus/train station, and we can also drive you to the station at the end of your stay.
By bicycle or motor-bike:
We can keep in locked space your motor-bikes or bicycles.
The way to depandance: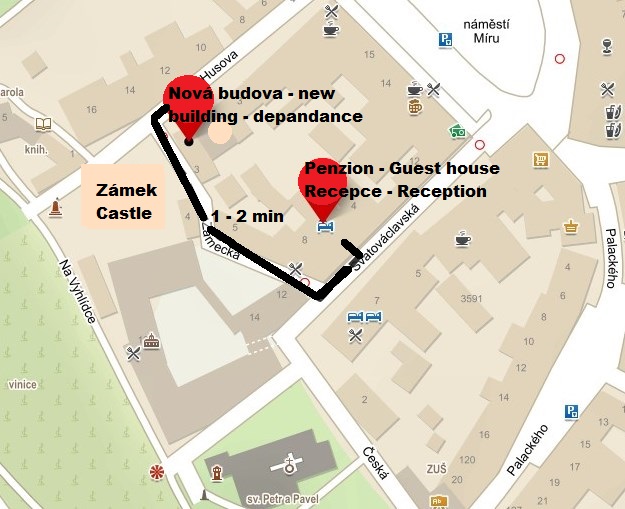 Distances:
Historical center: in the center
Shopping: at place
Bus: 10 min by walking.
Railway station: 15 min by walking.
Swiming pool: 15 min by walking.
Ice stadium: 15 min by walking.
Prague - center: 35 km
Kokorin: 12 km
Rip: 15 km